Cosmetic dentistry uses cutting-edge techniques and restoration treatment to help you acheive your smile goals. Whether you're suffering from chipped, discolored, or crooked teeth--let us help you feel more confident about your appearance with a new smile that is as beautiful as it is healthy.
At Columbia Square Dental, we offer our patients serveral cosmetic dentistry options.
Teeth Whitening
The first professional option is commonly referred to as in-office whitening. This procedure is performed in a dental office. During an appointment, your dental professional will apply a whitening gel to the surface of your teeth. The entire office visit generally takes about 90 minutes and you will be able to see results immediately.
At Columbia Square Dental, we offer Sinsational Smile -- the original 20 minute in-office teeth whitening system. Sinsational Smile uses fast and effective technology with our patented pre-filled silicone tray. This allows the jaw to remain relaxed and comfortable throughout the treatment.
For more information about pricing and availability, call our office today.

---
Tray bleaching is a type of professional whitening that uses custom-made trays and whitening gel only available through your dentist. The whitening gel is placed in custom-fitted trays that fit perfectly over your teeth. As the peroxide in the gel breaks down, hydroxyradicals help whiten stained teeth. Unlike strips, this process whitens all your natural teeth and may contain ingredients intended to provide maximum comfort. At-home professional tray whitening generally takes ten to 14 days, although you may notice results in as little as three to five days.
At Columbia Square Dental, we offer Opalescence Go whitening trays to our patients. For more information about pricing and availability, call our office today.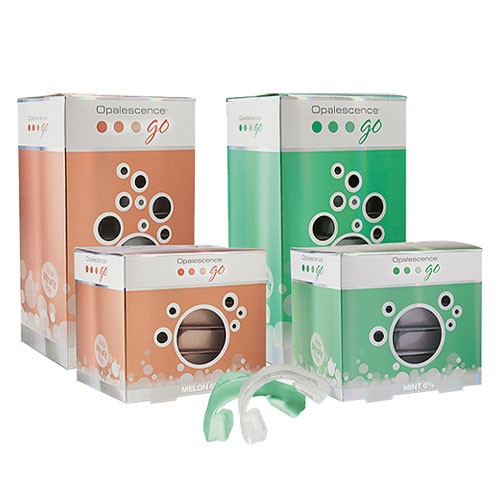 ---
Bonding
Bonding is a conservative way to repair slightly chipped, discolored, or crooked teeth. During dental bonding, a white filling is placed onto your tooth to improve its appearance. The filling "bonds" with your tooth, and because it comes in a variety of tooth-colored shades, it closely matches the appearance of your natural teeth.
Many patients prefer bonded fillings because the white color is much less noticeable than silver. Bonding fillings can be used on front or back teeth, depending on the location and extent of tooth decay. Bonding is less expensive than other cosmetic treatments and can usually be completed in one visit to our office. However, bonding can stain and is easier to break than other cosmetic treatments, such as porcelain veneers.

---
Veneers
Veneers are thin, custom-made shells made from tooth-colored materials (such as porcelain) which are designed to cover the front side of your teeth. Veneers are natural in appearance, and they are a perfect option for patients wanting to make minor adjustments to the look and feel of their smile.
To prepare for veneers, your doctor will create a unique model of your teeth. This model is sent to the dental technician to create your veneers. Before placing your new veneer, your doctor may need to conservatively prepare your tooth to achieve the desired aesthetic result. While veneers are stain-resistant, your doctor may recommend that you avoid coffee, tea, red wine, and tobacco to maintain the beauty of your new smile.